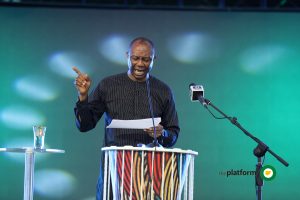 For the first time at #ThePlatformNG, Dr Biodun Adedipe spoke, and the essence of his presentation was for the audience to start seeing what others don't see and talking about what they don't talk about. 
He wanted to paint a better picture of Nigeria, and so he explained that Nigeria is a good country!
According to him, "Governments anywhere in the world don't do business; what they do is facilitate business."
He quipped that the present and future of our economy lies with the private sector, not the government as the government of Nigeria only generates just about 11% of the entire income as at 2018.
He shared some interesting facts to explain that the economy of Nigeria is growing but not fast enough.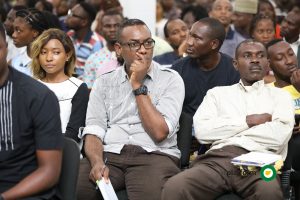 "Macro economic indices are pulling in the right direction as of today. What the trend suggests is that there is some improvement in the GDP.", he said. 
Some of the obstacles of our growth, however, are as follows;
1. Our economy is diversified but our foreign earnings are not.
2. Our naira exchange has been quite stable in the last 34 months. That's something hard to come by anywhere in the world.
3. Foreigners seems to believe in our economy more than we do.
4. We have been growing as a nation but we're not growing employment rate.
He went further to look into why things are this way in Nigeria.
5. We don't have an agreed policy anchor, which is one of the reasons why things are the way they are in Nigeria.
Finally, he suggested some ways forward in dealing with the obstacles mentioned above. 
He suggested that the nation take up manufacturing as a policy anchor. According to him, manufacturing doesn't have to be from just local materials.
"Infrastructure savings for the future, and a plan to encourage home made goods to reduce dependence on importation.", he said while suggesting more solutions. 
"Our school curriculum needs to change, aligning the product of our school system with what the market needs. There needs to be an emphasis on critical thinking. Our top government functionaries should no longer be allowed to go abroad for medical 'tourism'. Social intervention at the bottom of the pyramid should be intensified.", he added. 
He concluded by saying that the change in the story of Nigeria is in the hands of the elite and not the government.
"We need to change the narrative and start saying something differently about ourselves. To change the Nigerian narrative, our leaders at all levels must walk the talk. We must stop talking ill of Nigeria and act accordingly." 
Dr. Biodun shared more ideas on the way forward to the #EconomicGrowth of Nigeria. You can listen to his entire speech Here