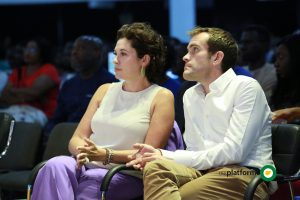 Sarah Lacy spoke for the third time at #ThePlatformNG, and as a Technology enthusiast, her speech centred on entrepreneurship.
Having interviewed the founders of a lot of Tech. companies, she sees them as successful millionaires and billionaires and normal people that are wired to see the world differently. 
Sarah Lacy shared the story of three entrepreneurs who are growth-Enablers in the world.
She mentioned Mark Zuckerberg, Elon Musk and Travis Kalanick, and explained that qualities like passion, courage, resourcefulness and the ability to unconventional, are what cause growth to happen and build an economy. 
"These qualities are seen in the lives of these three people.", she said.
One of the obstacles she spotted was the attitude of copying what others are doing.
She pointed out that the reason why some ideas are not getting funding is because the investment companies see the startups as copycats. 
To drive home her point, she asked the audience if Facebook is the first Social Media Network in the world, and the response is a 'No'. 
Sarah shared the story of how Silicon Valley refused to fund a Chinese company who later grew into a major organisation, and ended her session by majoring on the lessons.
You can listen to the entire speech Here