Professor Ndubisi Ekekwe is the founder and President of African Institution of Technology. 
After thanking Pastor Poju for inviting him to #ThePlatformNG, he shared the title of his speech – THE GROWTH of NATIONS.
He described Nigeria as an inventive society, and should work towards becoming an innovation society. 
Mentioning one of the economic drivers, he explained that the process of acquiring and applying knowledge is what build nations.
He asked, "How can we change our educational society?" He believes that you can't solve problems when you don't have capabilities. 
"Acquiring and applying knowledge renews the economy, and inject new ideas to help a nation out of paralyses. You cant be a great nation without a good educational system.", he added.
Another driver which he taught, is entrepreneurship. According to him, "The Nigerian entrepreneurship has to move from the downstream to the upstream."
Aspirational mission, data and analysis, and institutionalizing the Igbo apprentiship system; are solutions to #EconomicGrowth which Prof. Ndubisi shared.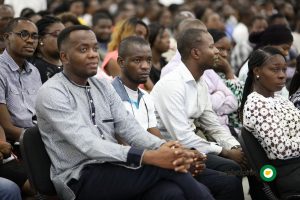 Then he admonished the audience to think, be innovative and help bring the nation out of obscurity. 
"Nigeria is a beautiful country. Have the mindset that we have more to do and there are opportunities for us to make others rise. When growth comes, our capital income begins to grow." He added. 
He ended his address by admonishing everyone to believe that we can rise as a nation and as a people. 
You can listen to Prof. Ndubisi Ekekwe's complete speech Here