After a short while, it was great to have Mrs. Ibukun Awosika speak again at #ThePlatformNG.
Being the last speaker, she tied up everything the last six speakers shared during the individual sessions.
Her session was much more of a dialogue, as she emphasized on the need for us to tell ourselves the truth and look for solutions to solve our problems as a nation.
Her presentation switched the mood of the audience from laughter to reflection, forcing everyone to think about the following questions;
What does Nigeria mean to you as a nation? What do you identify it to be?
She believed that the picture of Nigeria you have will affect your actions both locally and internationally.
Where do you think we are?
According to her, "We must first understand who we are before we can make sense."
Where do we want to go from here? What is our vision? What are we committed to?
"Without commonality of purpose, it's difficult to work together.", she said.
Our population: an asset or a liability?
While the audience thought about this question, she explained that it is not the population that is the asset or liability, but how we handle it.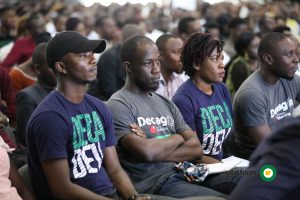 She then added that having an effective education would turn our population into assets instead of liability. To do this we have to be deliberate to nurture talents to work as assets either in the country, or outside of it.
This posed a next question which was: "What part of our population are we not paying much attention to?"
She believed this group were the women and young people. She said that if other people are not used in the economic growth process, the people involved would eventually collapse from being overused or driven too much.
Our diversity of tribes and religion: an asset or a liability?
"Diversity becomes our strength when we have mutual respect for each other. With our diversity, we can bring our talents to the table as assets and work together to achieve many things as NIGERIANS, and not just a tribe. We need not go through wars. Our religion is our personal relationship with God, with the constitution guaranteeing everyone of such freedom.", she added.
What can be done?
Mrs. Ibukun explained that we need one tribe in Nigeria to rise. A tribe of one agenda, a tribe called Nigeria that is united and has one purpose.
"A nation is not built in a generation. It is the constant coming together of different generations and times.", she said while preparing to close her presentation.
Then she added that a house divided against itself will not stand. The future of our nation depends on what we do now; in every way, forgiving each other, investing in the health care, education and knowledge.
Like I shared at the beginning of this post, Mrs. Ibukun Awosika's session was thoughtful as there were lots of contemplative moments. You can listen to the entire message by clicking 
Here