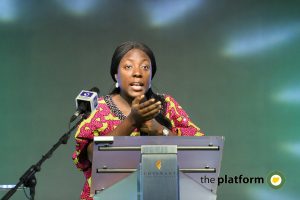 "My mother taught me selflessness", she started, sharing from her growing up years how she had to learn selflessness from the fact that her mum's work demanded that she was away from home most of the times. Adepeju Jaiyeoba is the Founder of Brown Button Foundation.
Here's her story as she told us at the Platform 11.1.
She and her siblings had to survive on their own, of course with help and support from their dad who encouraged and supported their mum as she pursued her dreams.
While at Obafemi Awolowo University, she got an opportunity to participate in a debate that was eventually won by her team. She believed such opportunities to shine had contributed to the making of who she has become today. She believes everyone should have such opportunities to explore.
She graduated from Law School and got a job with a senior advocate of Nigeria. However, she had to leave the law firm of the senior advocate when she met Mrs Aboyade, who as at that time shared her dreams with her and the kind of impact she seeks to make.
She had enough motivation as she wanted to be a part of the big dream and actualizing the vision. She worked with Mrs Aboyade for a couple of years.
But again, her heart began to shift when she heard about the impoverished health situation, especially as regards child delivery of many in her hometown area of Shagamu in Ogun state.
That led her to resigning from working with Mrs Aboyade to pursue the dream that has now gripped her heart, the dream to do something about the health situation. This was in 2011.
Though she was almost discouraged by her friend's suggestion to maximize the cost invested into studying law working to earn back what has been invested. She considered the thought but just couldn't shake off the vision burning in her heart.
The challenge now is to fund the project. Well, she was able to mobilize a couple of family and friends to organize a sensitization program in Shagamu. She also got support from the rural leaders in the community.
She refused to be boxed-in by her law degree. "Your degree or education should only spur your thinking; it should never put you in a box", she said.
She began to make progress from there. It was when she heard of how many women in the interior areas of the North couldn't afford delivery kits that she realized it was time to begin providing very affordable delivery kits for these women.
She got an opportunity to attend Barack Obama scholarship program in United States, where she studied Business and Entrepreneurship. And that gave her more exposure and opened her up to more opportunities. "The whole world will stand aside for a man who has a dream and a vision" she said.
She shared how she was invited to the white house in Washington, US to meet President Barack Obama in recognition of her works.
She challenged the audience to start with what they have is their hands. "Your success is measured by the value of lives you have touched and the changes you have created".