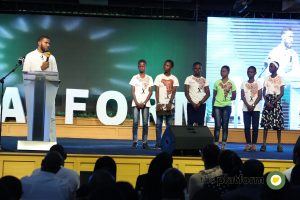 The 4th Speaker to mount the stage was Oroondam Otto, the founder of the non-profit initiative Slum to School, an organization whose vision is to transform the society by empowering disadvantaged children to realize their full potential through quality education.
He acknowledged previous speakers at the Platform, volunteers and partners who have contributed to making Slum to School a success.
He also recognized the presence of 50 Slum to School beneficiary students that came along with him.
In sharing his journey to starting this project, Mr Otto talked about his previous career as a banker. He then transitioned from being a paid employee to living his dream, troubled by the poverty and lack he saw all around.
He was particularly perturbed about the educational system because the secondary school curriculum is outdated and the kids are tired of school. The situation greatly challenged him, so he thought of ways to make a change in the system.
Resigning in 2013, and raising funds he was able to launch out to get the children back to school.
He then gave instances of how slum to school have identified kids that are doing exploits in school. This is in various sectors such as sports, IT, etc. "These instances", he said, "show how much children can achieve given a good opportunity".
The education activist informed the audience that he and his team have set up Space, an innovation laboratory, where children who are out of school, for various reasons, can come and learn a thing or two in a relaxed atmosphere.
According to him, "The facility is blessed with computers, specialized equipment to enable the children be creative, and a well equipped health center".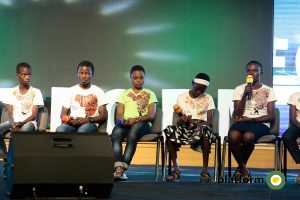 During Oroondam's session, beneficiaries of Slum to School initiative, where given an opportunity to come and share their stories. They discussed some challenges facing the new tribe of Africans and suggested solutions.
One of the issue highlighted by Esther – a beneficiary –  spoke about the lack of opportunity for some kids in her community to access school.
Charles and Emmanuel, beneficiaries who were also present, gave some solutions. One of them which is the solution to the lack of accessible health care, is that they designed a prototype ambulance to help children in emergency. He showed the prototype vehicle and asked for support to make the project a reality.
Mr. Otto concluded his speech by calling for more involvement in issues that pertain to the upbringing of this children.