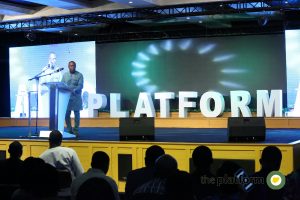 After welcoming the audience, he explained that this October 2018 edition is different from previous ones, saying that the array of speakers are actually doers.
According to Pastor Poju, "they are the new tribe of Africans who are fighting politics & changing the face of Africa."
He shared two stories which captioned his topic – Where is your own Lazarus?'
He told the audience that he had invited a woman (from the U.S) as one of Platform's speakers. According to him, this woman told him that national change comes from its citizens reformers – not just the government or those occupying political office.

The second story was about a man named Mr Wale Akinyemi who believes 'his Lazarus' is the change he's supposed to effect in his world.
He rounded off by sharing an initiative by Covenant Christian Centre. The church is prepared to sponsor 'community change projects' by social entrepreneurs who are not occupying any position in politics.  
He said, "This change is one you can effect in a place and that will affect the lives of people in your community. The best 20 will be chosen and announced at the end of the programme. The 20 people will be called to the office and once the projects are verified they will be sponsored. Not more than 500 words."
He gave the email for submission of this proposal as platformcommunityproject@gmail.com.