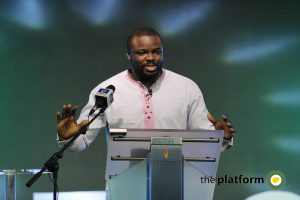 IYINOLUWA ABOYEJI, the first speaker at this year October's edition of the Platform Nigeria is the CEO of ANDELA & PHOTOWAVE.
He started on a very strict note, saying there's really nothing to be happy about as a nation with independence.
His session was more of stories about his childhood – his mother, an ECWA missionary and father is Butcher (meat seller), both in the year of independence.
According to Mr. Iyinoluwa, his both parents taught him that change is something you create as an individual for the collective. For example, his dad built a school in his village, despite the challenges and limitations. His mother who among other good works, joined a group of people to rescue girls from prostitution.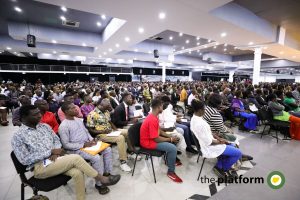 Speaking about the nation's leaders, he said that they don't seem to care about our community. "Everyone is just concerned about his own pocket." said Iyinoluwa.
"We can't afford to wait for the government to do something about the present state of things. We, you and I are, the ones who have to commit to serving the community. Our generation is waiting for us to rise to the challenge."
In closing, he shared the story of King Benhadad in the Bible, who though had his nation held captive, was given a prophetic word that God is going to deliver his nation from the oppressor, through an officer. He said we're like that officer and by our hands God will deliver this nation.
"We can't wait anymore, we have to fight for our generation."