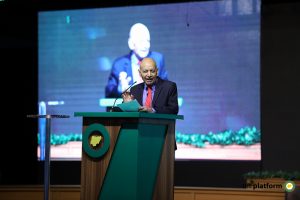 Immediately after Pastor 'Poju's opening speech was Professor Anil Gupta. As he commenced he shared his thoughts on the World Bank's views on possible areas of improvement (in the Nigerian Economy) such as the new electronic platform and the cashless policy for the economy. According to him, "Nigeria is Africa's biggest economy".
He cited a key issue as regards the nation's economy:
High unemployment level (in the country) is responsible for Xenophobia.
Since 2015, in the last 4 to 5 years, Nigeria's GDP has been slower than the growth rate of populations.
The biggest is that Nigeria's economy is overly dependent on oil and gas!
When commodity prices are rising, GDP grows but when reversed, this does not necessarily fuel growth.
He advised that for the Nigerian Economy to experience sustainable growth it has to increase the rate of manufacturing which is currently at 7-8%.
He shared the following action steps;
For the Government, Electricity needs to be improved. He reported the World Bank Group, saying that with constant electricity, our economy will be 2% higher. He added that 40% of the cost of manufacturing goes to power now. Hence, the cost of power is way too high and manufacturing is near impossible! Roads and highways should also be prioritised.
The State Government should focus on Urban Planning. He shared that Lagos is to increase by 10 million more people soon.
Corporate Institutions, for example, large banks, Fintech companies, Dangote and others can create a global powerhouse. They also have to go green with processes. Corporations must also leverage the newly created African free trade area.
To leverage the new African economies, companies are to think of themselves as African companies not Nigerian through joint ventures, acquisitions etc, taking advantage of the scale effect of Africa for Nigeria.
He explained that Large companies need to employ digitalization for speed. e.g cars becoming computers on wheels. Ikea, for example, who don't manufacture anything but build and upgrade the capabilities of the contract suppliers who they see as partners – upgrading their capabilities whilst doing that, hence upgrading the whole economy as a whole.
To the Young Professionals, he advised them to focus on digitization. According to the Professor Gupta, they can create ventures to solve social issues such as healthcare – emerging markets in having trained doctors and nurses.
He also addressed Software Professionals. He mentioned Practo, Oride while sharing ideas for development in this sector.
As he closed, he added that Agriculture and food supplies can be improved. Farmers sign up as members, taking pictures of their crops and getting advice back end. They get weather forecast, advice for up to seven days, what crops to plant, pest management, etc.
He closed by saying that with these types of ideas, Nigeria (in another 15/16 years) will be two times bigger or three times. This is the kind of potential where everybody in the society needs to collaborate.