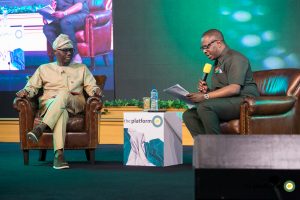 THE ECONOMY AS IT CONCERNS LAGOS STATE
QUESTION 1: The Commuting losses to the Lagos economy. What are the short term and long-term strategies to sort the Lagos state transport issues?
Gov. Babajide Sanwo-Olu: Even on public holidays, Lagos traffic doesn't spare you. 
He explained that the roads won't be fixed now until the rains are over. Hence, this is the reason why we currently have pot-holes everywhere. This is contributing to serious traffic now and also the population versus the infrastructure is a mismatch!
He compared Lagos State with USA's New York. According to him, "We can't have a subway system because of the water level of the state. Hence, we do rail, road and water."   
He added that a lot of jetties are being built. With one-way traffic characterizing Lagos movement, economies of scale is required.  
Once the rains are over, there will be massive road rehabilitation, also the water ways. The rail is a long-term project ongoing, as well as BRT system will also be addressed.
QUESTION 2: How do we make service training for teachers to improve the quality of primary education. Secondly, how do you deal with the high number of teachers that are retiring whilst no new inflow to replace? 
Gov. Babajide Sanwo-Olu: The number of public primary schools in Lagos is 1,000 and private school is pegged at 18, 000!
He identified the fact that in his first 100 days, has given approval to recruitment of teachers – recruiting primary school teachers to fit into the system, a proper audit of where we are to deal with adequate and proper training to get teachers to where they need to be, an automatic replacement process has commenced which never existed in the last 3 years.  
In the area of infrastructure in the schools, grouped in 300 schools each, blackboards, books and other things are going to be put in place. 
QUESTION 3: Medical tourism's expenditure is high in the state and it is noted that it is majorly sponsored by the government. The negative impact on the local economy is a lot. How would you approach the impact of this on Lagos?
Response: We do not have enough biomedical technicians who can handle this equipment. The government has seen this has a challenge and we are looking into it. 
QUESTION 4: 45% of the technology hubs are concentrated majorly in five countries including South Africa, Lagos and Kenya. What can Lagos do to reduce the outflow of young engineers and make Lagos State conducive for them?
Response: Our plan is to make Lagos State a key destination for technicians by putting in place the metropolitan fibre initiative, deploying fibre to Lagos state.  The company hired for this will lay fibre across Lagos and so Lagos will have high speed internet connectivity so they can run better services/opportunities using fibre, thereby improving businesses and opportunities.
It will also go to our school, e-health, e-education, etc., manage traffic and security issues.
QUESTION 5: 106% DEBT. Are you comfortable? Are we increasing tax? 
Response: $2billion is our budget. Debt of 20-25%. Our debt ratio is not alarming, our GDP to tax is one of the lowest in the world.
The instruments of our creativity for financing includes: asset securitization and bonds to raise funds, to be used for capital expenditure. We need to raise our resilience capability. With about 4.5 million to be paying tax, less than 700 are paying. We need to have more people on tax payment, not increase tax rate.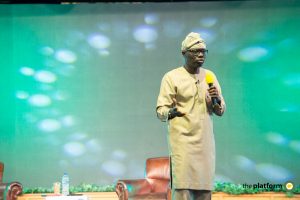 FINAL QUESTION: At 125 days now, are you happy with the progress you're making?
Gov. Babajide Sanwo-Olu: We can do a lot more. If we fail to plan, we also plan to fail. A lot is happening back end. We don't need to make noise. I am not happy yet. I believe Lagos can achieve a bit more. 
The skill gap issue also exists. The finance of the state is key. Outstanding facilities exists. Commitment to local banks etc. Let's be very creative with financing so we are not just out borrowing. It is a marathon, not a sprint. 
Finally, he affirmed, "Lagos will definitely be better."